Ingredients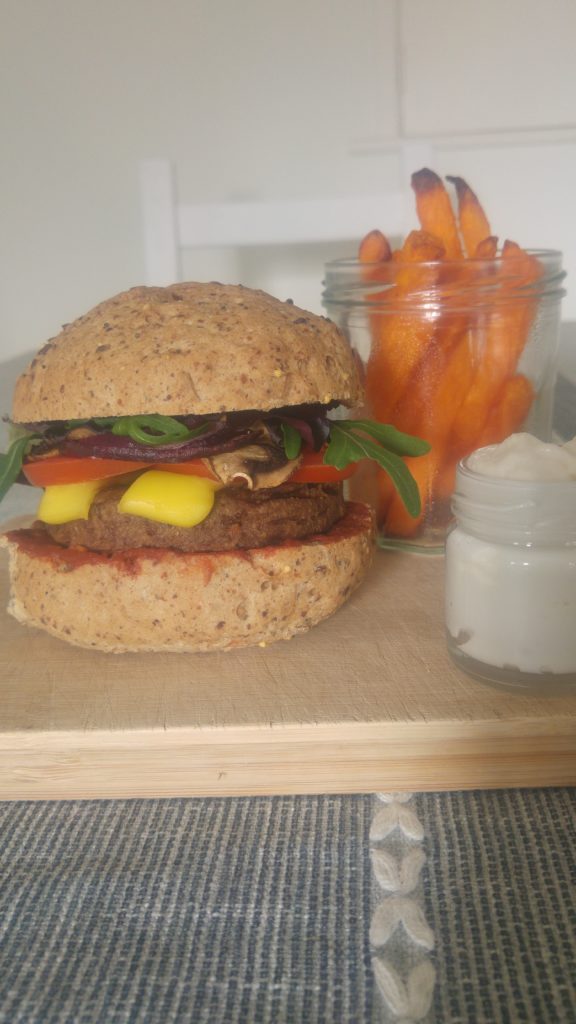 1 x plantbased burger
1 x seeded gluten free bun
Vegan cheese
1 x portobello mushroom
1 x beef tomato
Purple onion
Rocket salad
Sweet potatoes chips (frozen or freshly cut)
Good quality ketchup and vegan mayonnaise
Extra virgin olive oil
Truffle oil
Pink salt and black pepper to taste
Directions
Place burger in the oven, following cooking instructions.

Also add to the oven sweet potatoes chips, alongside portobello mushroom and few
onion slices. Check regularly, do not burn.

Slice bun in half and slightly grill.

Spread one side of the bun with ketchup and the other with vegan mayonnaise.

5 minutes to perfect cooking add to the burger few slices of vegan cheese.

Add burger to the bun and layer with the rest of the ingredients.

Add extra virgin olive oil, plus a drizzle of truffle oil, pinch of salt and black pepper
to taste.

Enjoy a mouth full animal friendly bite.